About Me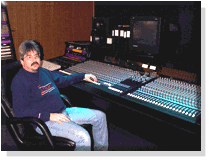 Well, how does one introduce oneself without sounding like a geek? Really, I don't care; I'm definitely a geek anyway. I personally like to connect a person's name to a face and to learn a little about his/her personality. With that in mind, I offer you an insight into my life.
Deep down, I really love music. I've been playing the piano since the age of 4. Over 30 years of my life have been spent writing and performing music. I get the biggest thrill out of listening to something that I recorded! I can play just about any instrument that is put in front of me. I'll attempt to play just about any style also, except for bluegrass and opera (ouch, my ears hurt). Lately, I've just been experimenting with some epic sounding, synthesizer orchestrated stuff. You know, ambient things that would sound good in a game, nothing really reliant on discreet melodies.
Here's a sample of what I am talking about:
Music Sample (3.59MB MP3)
From "Paranormal Vibrations" Copyright 2002 Eric L. DeBrosse
Anyway, once I sat in front of a computer, I was forever changed. Wow, I can write my music much faster and with more tracks, I can create drawings quicker and I can even program some cool stuff! I came to the conclusion that I'm going to be busy for quite a while. I chewed through books like they were going out of style. I took the junior and senior level computer classes in High School during my sophomore year. The teacher was asking me questions! This was back when the Apple computers still had the green monochrome monitors. It was my first taste of the Basic programming language. (I've been using Visual Basic since version 3) I'm one of those guys that just had to get his hands on a Commodore 64. Then it was the Amiga -- I really liked that system, it was hard to part with. Then of course, the IBM compatible machines started to catch up and I finally made the switch to DOS. We all know what happened after that. My mother and father then started having to talk to me using If ... Else ... Then statements -- utilizing object oriented instructions wherever possible.
I left High School and went right to work for a local office supply house repairing copiers, typewriters, word processors and calculators. This was good experience in dealing with the public, since I made a lot of service calls. Fixing stuff and playing around with electronics is quite a thrill. However, I've always been the independent type; so I ended up leaving there after about 5 years. I finally decided I would go ahead and get a late start on college at Miami University in Ohio. (Systems Analysis/Computer Technology) After about a year of classes, I started working in the computer facilities as a student worker. This eventually evolved into a full time job as a Senior Technical Services Specialist. I administered and maintained loads of computer equipment during my stay -- I had fun, but I again had to go after about 5 years. I do, however, still occasionally teach a few Continuing Education classes there in my spare time.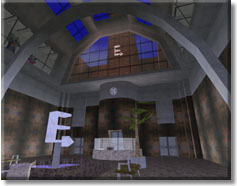 You see, my problem was, I never really found my niche. I got frustrated with the music business, among other things. I grew tired of setting up networks. I was just flat out tired. I'm at the age now, where I realize that being a rock star is not my goal anymore. Then I discovered that if I could make a game, I could write music, do graphics and program applications -- everything usable for the same project! Things have been going in high speed now, ever since I finally had the idea to tie all of my talents together.
What am I doing now? Pretty much my own thing. I somehow manage to keep pretty busy. I've been trying to write a game engine. However, this is a pretty large task for just one programmer. Will I finish? You'll just have to wait and see. Actually, I would like for an established game studio to notice my talents someday. I could do an awesome sound track for a game!
Eric

"A good traveler has no fixed plans and is not intent on arriving."
- Lao Tzu (570 - 490 BC)