Equipment

I also got an Olympus FL-40 (manual) flash (above) . Yes, it's overpriced, and it makes the C-5050 top-heavy, but no other flash works as well with Olympus digital cameras.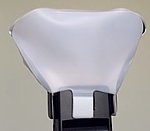 I also got the LumiQuest ProMax system (above). No more red (or green) eyes on my cats and dogs -- well most of the time. And it's easier to adjust so the faces aren't blown out.
I have a small gallery of photos at Rowlett Creek Preserve, just a few miles from my house. It is a combination of dark-and-brooding trees and paths with pockets of sunlit meadows. I only "discovered" it recently, but I've been back several times already. If it ever snows here again, I'm going there to take pictures...