Music
I have been looking at getting a Turtle Beach's AudioTron (http://www.audiotron.net/audiotron.asp), but I've been hesitating because it would require a really nasty cable run from the second floor to the first floor bedroom. Maybe after summer's over and the attic cools down a little...
Nanci Griffith is my all-round favorite artist. I own all her non-compilation albums, and recently got to see her in person at the Bass Performance Hall in Fort Worth, Texas (04/21/2002). It was part of her Clock Without Hands tour promoting her new album, but she did more of her older songs than new ones. Bass Hall was a nearly perfect place to hold the concert, and the Fort Worth Symphony Orchestra enhanced her songs, much as the London Symphony Orchestra did in her Dust Bowl Symphony album.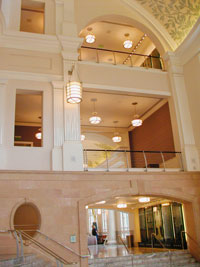 I was also able to snag a signed copy of her book, Other Voices: A Personal History of Folk Music, which I'd been searching for.

If you are interested, you might want to check out the official Nanci Griffith site, http://www.nancigriffith.com.
---
Discography:
There' A Light Beyond These Woods (1978) -- Philo/Rounder

Poet In My Window (1982) -- Philo/Rounder

Once In A Very Blue Moon (1984) -- Philo/Rounder

Last Of The True Believers (1986) -- Philo/Rounder

Lone Star State Of Mind (1987) -- MCA Records

Little Love Affairs (1988) -- MCA Records

One Fair Summer Evening (1988) -- MCA Records

Storms (1989) -- MCA Records

Late Night Grande Hotel (1991) -- MCA Records

Other Voices, Other Rooms (1993) -- Elektra Records

Flyer (1994) -- Elektra Records

Blue Roses From The Moons (1997) -- Elektra Records

Other Voices, Too (1998) -- Elektra Records

The Dust Bowl Symphony (1999) -- Elektra Records

Clock Without Hands (2001) -- Elektra Records
Compilations
The MCA Years: A Retrospective (1993) -- MCA Records

Country Gold (1997) -- MCA Records

Wings to Fly & A Place To Be: An Introduction [Import] (2001)

The Best of Nanci Griffith: 20th Century Masters (2001) -- MCA Records

From A Distance: The Best of Nanci Griffith (2002) -- MCA Records

Last modified on: Sunday, 26 December 2004 08:55:05 PM